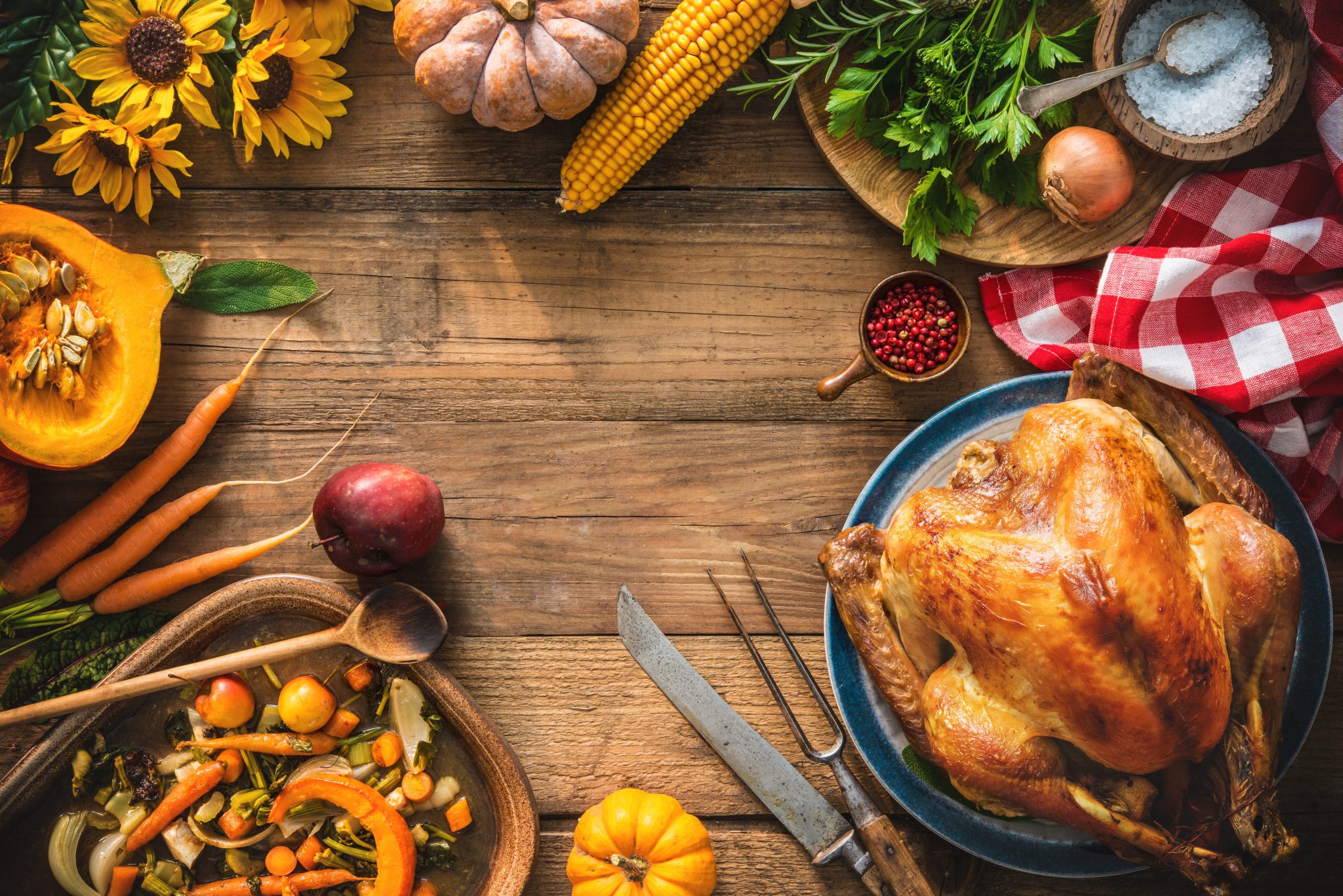 All orders fulfilled on Wednesday, 11.24.2021
Grace's Marketplace will be CLOSED Thanksgiving Day.
Delivery on 11/24/21: 10 am – 1 pm OR 3 pm – 7 pm.
Pick Up Available 11/24/21: 10 am – 1 pm OR 3 pm – 7 pm.
Orders will be taken until 4 pm, Friday, 11/19/21.
All orders must be finalized by this time. There are no exceptions.
Orders are taken and processed through the catering department.
---
A la Carte
Starters
Butternut Squash Latke $24/dozen
with Herbed Sour Cream
Vegetarian Croquette $27/dozen
with Roasted Vegetable and Sweet Potato
Artichoke & Parmesan Dip $15/pint, $27/quart
with Grace's Homemade Chips
Mini Turkey Meatballs $21/dozen
with Cranberry and Sage in Grace's Gravy
Autumn Turnovers $27/dozen
with Pumpkin, Goat Cheese, Honey, Cranberry
Roasted Mushroom Bruschetta $15/pint, $27/quart
with Italian Crostini
Stuffing
Cornbread, Raisin – $10.00/lb
Sausage & Herb – $12.00/lb
Apple & Apricot – $12.00/lb
Cauliflower Kale, Fennel – $14.00/lb
Soup
Pint $6.50 · Quart $12.00
Cream of Butternut Squash
Root Vegetable and Barley
Tomato Bisque
Cauliflower Chive
Entrée
Whole Roast Turkey $8.00/lb
with Giblet Gravy
– Carved Off the Frame $9.00/lb
Whole Turkeys start at 10lbs
Sliced Rosemary Turkey Breast $16.00/lb
(Prepared Brisket Style)
Thanksgiving Prime Pot Roast $21.00/lb
with Mushroom Gravy
Roasted Salmon Piccata $32.00/lb
Calabrian Lasagna (V)
with Roasted Peppers, Eggplant
Half Tray $60, Full Tray $115
Accompaniments
Sweet Potato Hash $13.00/lb
with Bacon & Caramelized Onion
Glazed Yams $11.00/lb
with Cinnamon Sugar, Brown Butter
Whipped Sweet Potato $12.00/lb
with Marshmallow and Pecans
Grace's Signature Kale Salad
with Cranberry, Almonds, Parmesan
Small $40 (4-6), Medium $60 (8-10),
Large $80 (20-22)
Grace's Harvest Kale Salad
with Apples, Pomegranate, Sunflower Seeds
Small $40 (4-6), Medium $60 (8-10),
Large $80 (20-22)
Roasted Brussel Sprouts and Butternut Squash $13.00/lb
Stem Carrots with Honey and Sage $13.00/lb
Red Bliss Mashed Potatoes $11.00/lb
Long Grain Brown Rice & Butternut Squash $14.00/lb
with Sliced Almonds, Cranberry and Scallion
French Beans and Toasted Hazelnuts $14.00/lb
Green Bean Caserole with Crispy Onion $13.00/lb
Cauliflower Mac & Cheese $13.00/lb
Grace's Mac & Cheese recipe, but cauliflower!
Roasted Cauliflower and Eggplant with Stuffing Crust $13/lb
Honey Dijon Brussel Sprouts $13.00/lb
Dinner Packages
All Packages are a set selection and made for a minimum of 10 guests, upgraded to 15, 20 guests.
There are no substitutions or alterations to set packages. A la Carte items are available in addition to any package.
Grace's Semi Homemade Packages $275.00 for 10 guests
Whole Turkey
Whole Turkey, Raw & Seasoned
Giblet Gravy
Choice of Soup
Cornbread OR Sausage Stuffing
Glazed Yams
Apple Pie
Boneless Turkey Breast
Whole Turkey Breast, Raw & Seasoned
Giblet Gravy
Choice of Soup
Cornbread OR Sausage Stuffing
Traditional Mashed Potatoes
Apple Pie
Grace's Signature Dinner Packages for 10 guests
Classic Dinner $450.00
Artichoke & Parmesan Dip
Mini Turkey Meatballs
Cream of Butternut Squash Soup
Whole Roast Turkey with Gravy
Choice of Stuffing (excluding Cauliflower)
Whipped Sweet Potatoes with Marshmallow and Pecans
Grace's Signature Kale Salad
Choice of Pie
Grace's Harvest Dinner $405.00
Autumn Turnovers
Artichoke & Parmesan Dip
Cream of Butternut Squash Soup
Sliced Rosemary Turkey Breast with Gravy
Choice of Stuffing (excluding Cauliflower)
Sweet Potato Hash
French Beans and Toasted Hazelnuts
Choice of Pie
Elegant Dinner $535.00
Roasted Mushroom Bruschetta
Butternut Squash Latke
Root Vegetable and Barley Soup
Choice of Stuffing (excluding Cauliflower)
Thanksgiving Prime Pot Roast
Roasted Salmon Filet, 6 pieces
Honey Dijon Brussel Sprouts
Glazed Yams
Fruit Platter
Coconut Custard Pie
Everything but the Bird $330.00
(Vegetarian Friendly Feast)
Artichoke & Parmesan Dip
Autumn Turnovers
Cauliflower Chive Soup
Calabrian Lasagna
French Beans and Toasted Hazelnuts
Grace's Harvest Kale Salad
Choice of Pie
Party Trays
Half Tray Serves 8-10, Full Tray Serves 16-18
Sliced Turkey Breast with Gravy
Half Tray $65, Full Tray $130
Thanksgiving Prime Roast
with Carrots, Onion, Bliss Potatoes
Half Tray $95, Full Tray $185
Cornbread Raisin Stuffing
Half Tray $55, Full Tray $95
Apple Apricot or Sausage Herb Stuffing
Half Tray $65, Full Tray $120
Cauliflower, Kale, Fennel Stuffing
Half Tray $70, Full Tray $130
Red Bliss Mashed Potatoes
Half Tray $50, Full Tray $75
Glazed Yams
Half Tray $55, Full Tray $105
Whipped Sweet Potato with Marshmallow and Pecans
Half Tray $55, Full Tray $105
Sweet Potato Hash
Half Tray $55, Full Tray $105
Warm Brown Rice & Broccoli
Half Tray $55, Full Tray $105
Roasted Brussel Spout and Butternut Squash
Half Tray $65, Full Tray $125
Stem Carrot with Honey and Sage
Half Tray $65, Full Tray $125
Cauliflower Mac & Cheese
Half Tray $60, Full Tray $115
Roasted Cauliflower and Eggplant
Half Tray $55, Full Tray $105
French Beans and Toasted Hazelnuts
Half Tray $60, Full Tray $115
Green Bean Casserole
Half Tray $65, Full Tray $125
Honey Dijon Brussel Sprouts
Half Tray $60, Full Tray $115
Gravy & Conserve
Pint $6.50, Quart $12.00
Homemade Giblet Gravy
Pot Roast Au Jus
Puree of Mushroom Gravy (V)
Rich Mushroom Broth with Vegetable Stock, Herbs
Cranberry Conserve
Spiced Cranberry Conserve with Pecans
Cranberry Orange Conserve
Apple Sauce with Cinnamon
Dessert
Freshly Baked Pies
7 in – $18, 10 in – $25
Pumpkin Pie
Coconut Custard Pie
Pecan Pie
Apple Pie
Blueberry Pie
Cherry Pie
Fruit Platter
Small $55 (8-10), Medium $82.50 (14-16),
Large $110 (20-22)
Thanksgiving Cupcakes (Ask for Price)
Chocolate and Vanilla Buttercream